Meet our sanctuary cats! Our "Purrmanent Residents" are cats whose lifetime care we have committed to because of the complicated nature of their conditions and the need for specialized care. Read more about them, and learn how you can become a monthly sponsor! As a "Purr Pal", you'll receive a photo of "your" cat, as well as an Angels of Animals mug. As a "FurEver Friend", you'll receive a photo, mug, and an Angels of Animals paw print tie-dye tee. "Best Furriends" receive all of this, plus visiting privileges with your cat, either at home or via a Zoom call. (All gifts ship after three months of continued membership.) Your sustaining support allows us to provide lifetime care for these very special cats. Join us today as a member and help us believe in miracles for Donna, Frank, and others like them.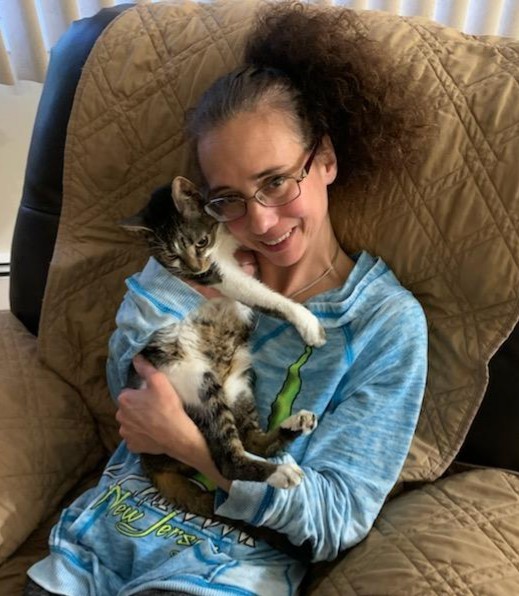 Donna (Rest in Peace, 2021)
Donna was diagnosed with an inoperable liver shunt at only a few months of age. This means that her blood vessels are wrapped around her liver, preventing her body from processing toxins. She needs a special diet, medication, ongoing medical care with her specialists at Oradell Animal Hospital, and around-the-clock at home care. Donna lives with Amy and her family, and has a wonderful quality of life. This sweet girl can usually be found napping on the couch, hanging out in the kitchen with her family, or enjoying a prescription meal in her own room. Donna needs to eat separately from other cats, and cannot have even one bite of "regular" cat food! Donna was not supposed to live past her first birthday, and yet here she is, four years later! Your monthly sponsorship helps to pay for Donna's specialized food and medicine, and allows us to rush her to the emergency clinic at the first sign of a crisis. Become a sustaining sponsor by clicking below. Thanks for caring about Donna!
Oh, Frank! Our resident old lady cat was found on the streets with a host of medical issues. Frank has a severe case of stomatitis that required the removal of all of her teeth to save her life. She had multiple tumors on her face and body, was severely malnourished, and suffering from respiratory issues that took nearly a year to diagnose. Frank has chronic asthma, food allergies, and environmental allergies. She lives with Trish, where she spends most of her time in the office, napping on the couch, getting brushed (her favorite), or snuggling in her furry cave. Frank requires steroid injections every six weeks, special food to keep her asthma and skin allergies under control, and constant monitoring in case she needs her rescue inhaler. Her tumors have returned several times in the 2 1/2 years that she's been with us, and she requires ongoing monitoring for her stomatitis issues. Frank's ongoing medical costs are high - biopsies (and sometimes minor surgery) when her tumors pop up, regular checkups, and multiple medications. Frank has required four surgeries so far, and there's always the possiblity of another tumor that will need our immediate attention. Your donation allows us to provide Frank with the happiest, healthiest old age a cat could ask for! Become a sustaining sponsor by clicking below. Thanks for caring about Frank!
Become a monthly sponsor!
Choose a sponsorship level and let us know in the notes that you are sponsoring FRANK!